4 Undeniable Reasons To Add Chia Seeds To Your Skincare Routine
Posted by Team LATHER on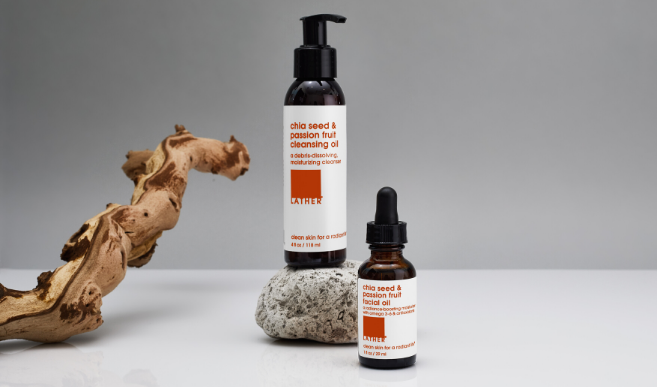 Chia seeds can take your skincare routine to the next level.
Chia seeds probably sound familiar because, for so long, they were connected to those popular clay figurines known as Chia Pets. Ch-ch-ch-chia! Nowadays, though, the Chia Pet trend has mostly died out, while the actual seeds have become more popular than ever. A member of the mint family, chia seeds originate from the desert plant Salvia hispanica. In recent years, they've also been hyped up as a superfood with all sorts of health benefits. That's because they're high in fiber, calcium, omega-3 and omega-6 fatty acids and antioxidants. Chia seeds can be eaten raw, or added to salads, cereal, yogurt, smoothies, and meals—the possibilities are endless.
Chia is truly an "inside-out" beauty food. When you eat it, you become healthier and it shows on your skin, as it starts glowing with renewed vitality. You can even eat chia as dessert, like in this key lime pie chia pudding courtesy of the fabulous Jess of Choosing Chia.
You don't have to stop eating chia seeds. You can also apply its oil, which works wonders when used topically. Let's take a look at why you should feed your skin with chia seed oil.
Chia seed oil is very moisturizing, particularly for people with eczema and other very dry skin conditions. An eight-week study on subjects with pruritus, skin itchiness caused by various ailments, found that chia oil was able to significantly increase skin hydration and skin barrier function while also reducing transepidermal water loss. As a bonus, its moisturizing effects are also anti-aging, in that well-moisturized skin is less likely to develop fine lines and deeper wrinkles.
The best part is that chia seed oil is lightweight and absorbs easily, so it doesn't leave a greasy residue and sits gorgeously under makeup.
2. Strengthens Skin Barrier
There's no way around it—a healthy barrier is a foundation for a beautiful complexion, particularly among those with sensitive skin. Chia seed oil can help strengthen the skin barrier, which naturally weakens as we age, leaving skin prone to wrinkling and sagging. (The barrier is also compromised by using overly harsh and aggressive skincare treatments and other factors like UV radiation.) Omega-3 and omega-6 fatty acids, which chia seed oil is chock full of, can prevent this weakening by reinforcing the epidermis
3. Quells Inflammation (and Itchiness)
Chia seed oil has been shown to improve chronically itchy and cracked skin thanks to its content of essential fatty acids that help reduce the inflammatory response.  This is especially beneficial in cold-weather situations when the skin is more likely to become dry and irritated.
4. Helps Combat UV Damage and Dark Spots
As lovely as the sun it is, its UV rays are the largest source of free radical damage to your skin, which manifests as fine lines, creepiness and dark spots. Prolonged exposure can even cause skin cancer, which is why it's of utmost importance to protect yourself by applying a broad-spectrum sunscreen every day and reasonably limiting yourself to excess sunlight. Chia seed oil's anti-inflammatory powers may help reduce UV damage, Joshua Zeichner, director of Cosmetic and Clinical Research in Dermatology at Mount Sinai Hospital, told StyleCaster. Another expert, dermatologist Rachel Nazarian, told the publication that chia seed oil may even help minimize dark spots.
Your New Beauty Buddy
Chia seed oil is more than worthy of being added to your skincare routine. Not only does it moisturize so potently that it's used on people with severe skin problems, but it also helps fight photodamage and reduces inflammation. It's amazing to think those little tiny seeds can be so powerful. To use, rub a few drops of the oil onto your face and neck daily for optimal results.
Want to reap the benefits of chia seed oil? Try our facial oil, which is packed with the good stuff to unveil soft, smooth and youthfully vibrant skin.