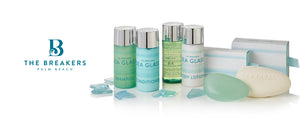 When one of America's most legendary resort destinations decided its in-room amenities were showing their age, they enlisted LATHER Custom to conceive of a collection that complemented their magnificent Palm Beach location, artfully-designed renovations, and their reputation for timeless elegance.
The Strategy
Look to the Atlantic, and its ever-changing shades of blue and green, for design inspiration

The products' sizing should reflect the hotel's tradition of generosity

Deliver effective and rich formulations infused with beneficial extracts such as sea algae, sea kelp, spirulina, aloe, wheat germ oil, witch hazel, mango, coconut and Florida orange peel
Present upscale packaging consisting of cylinder bottles with chrome disc caps that are easy to use and oceanic blue bottles that are made from 50% recycled water bottles

Reinforce the uniqueness of the property by crafting customized, ergonomically designed body and face soaps in a sea glass pebble shape and offer them in matchbox style cartons made from 100% recycled cardboard materials
The Results
The Sea Glass Collection was introduced to guests of The Breakers through in-room amenities and more than 11 additional retail items.

Free of sulfates, parabens, DEA, TEA, phthalates, propylene glycol, mineral oil, artificial colorants and any harsh chemicals, the collection is healthier and more natural than the product it replaced, in line with the wellness needs of today's travelers.

The luxe finishings and universally-pleasing color palette stand out in-room and on retail shelves.

The quality of the product has elevated it from a mere amenity to a memory-inducing keepsake, indicative of the legendary guest experience.
Client Testimonials
"Prior to working with LATHER my one concern was could they produce a product that was luxurious enough whilst still maintain a chemical, paraben-free approach. Having tried a few sample products from the LATHER line I was very quickly reassured that this would not be the case with them!

The custom process was very easy. We have an amazing bathroom amenity program as a result of working with LATHER. We continue to receive requests from guests to purchase the product to use at home. There is no better indicator of a great product."
- Charles Fisher, Resort Manager, Four Seasons Resort Lana'i
Client Testimonials
"We couldn't ask for a better bath amenity and brand partner than LATHER. The company's modern packaging and crisp, vibrant scents fit the vibe of our boutique hotel collection to a tee. We use LATHER's body products in many of our guest packages and as gifts for our loyalty club members. We greatly value LATHER's exceptional customer service and willingness to always partner with us on promotional and press events. Simply put, LATHER has been a big part of Lark Hotels' growth and success."
- Dawn Hagin, Chief Inspiration Officer, Lark Hotels
Client Testimonials
"Great quality product, highly reliable service, flexible and able to adapt to changing needs. Your customer service, hands down…It's first rate – I've never worked with anyone better."
- Gary Boyd, Director of Purchasing, Wynn Las Vegas