Father's Day Gift Guide: The Best Beauty Products for Men
Posted by Team LATHER on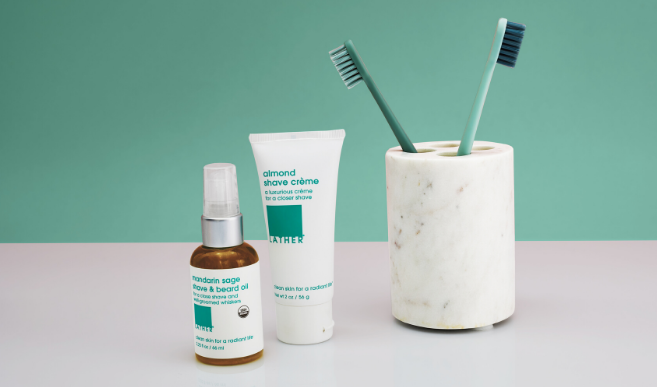 Father's Day is almost here! To let that special dad in your life know how appreciated he is, why not treat him to a little self-pampering? Here are some body-loving products sure to remind him to take some time out for himself. After all, dads need wellness, too!
Help dad start his day off right
Believe it or not, men love having soft skin, too. What a better way for dad to start off his day than with a fresh, clean shave that leaves behind softer, smoother skin. Treat him to this moisture-rich Almond Shave Crème Travel Trio. This shaving lotion contains hydrating glycerin. According to dermatologist Diane S. Berson, MD, FAAD, glycerin is a humectant that hydrates the skin by helping it hold in moisture. This cream is also foam-free, so it will give him a close, smooth shave every time. Its formula is gentle on the skin and contains almond oil to ease irritation.
So, whether he's rushing to catch a flight or getting ready for dinner out, these travel-sized tubes are perfect for a busy Dad on the go.
Give dad his best mane
Of course, having a soft, clean-shaven face isn't the only thing that's important to a busy dad. Having clean, shiny hair that's easy-to-manage is too. To help him keep his hair looking its best, introduce him to this Hair Appoint-Mint trio.
This naturally formulated set includes a lathering mint thyme hair wash. Rich in emollients, it's scented with an invigorating mix of mint, thyme, and peppermint. Perfect for that morning shower. Extracts of olive, cucumber, and chamomile leave the scalp feeling clean and refreshed.
The included mint thyme crème rinse is a gentle, daily conditioner. The eye-opening scent of peppermint oil is sure to get him ready to take on the day. The hydrating fatty acids in the avocado oil will leave his hair feeling baby soft, while amino acids and wheat protein smooth and fortify.
Last, but not least, is the avocado mint hair repair containing aloe vera oil, shea butter, and glycerin. According to Raechele Cochran Gathers, MD, FAAD in Detroit, natural ingredients like aloe vera, shea butter and glycerin help dry or fragile hair to maintain moisture. This deep conditioning lotion can be used on hair twice weekly for an added moisture boost, leaving dry hair re-hydrated and soft to the touch. It also contains scalp soothing tea tree oil and thirst quenching avocado and jojoba oils.
Present dad with a complete face-over
Hair care is an important part of looking his best, but a man needs a natural skincare regimen, too. This Smooth Operator kit has all the essentials he'll need to keep his skin looking and feeling its best.
A foaming eucalyptus facial scrub gently cleans impurities from pores while jojoba beads and rice bran exfoliate. Soothing aloe and milk thistle leave skin feeling happy and refreshed after a long day. With its invigorating eucalyptus scent, this is the perfect lotion to use for morning cleansing.
The almond shave crème is a luxurious, non-foaming cream that's great for sensitive skin with hydrating glycerin and soothing, sweet-smelling almond oil. He won't need much of this cream to get a smooth, close shave.
Dads don't like it dry (unless it's humor and whiskey)! To moisturize and control shine without aggravating skin, this lightweight Shine Control face lotion will help minimize breakouts with exfoliating salicylic acid. It also contains skin-soothing tea tree oil and hydrating wheat germ oil so his skin stays smooth and soft.
All three of these essential skincare products come with a convenient carrying case with room for dad to stash all of his grooming tools.
Make dad feel good on the inside
Dad's hard-working muscles need some relief, too. This Muscle Ease Gel with botanical pain relievers is just the thing after soreness from mowing the lawn, or even just a long day at the office.
Ease those little aches and pains with natural, herbal plant extracts like aloe, green tea, and citrus. Just massage into aching muscles and joints up to four times daily for fast-acting relief. Menthol, camphor, and capsaicin give this pain soothing gel a unique cooling and heating sensation.
Give dad his best AMs and PMs
To quench his dad's dehydrated skin, gift him with the Day and Night Duo moisturizing aromatherapy balm duo.
For a quick, morning pick-me-up, the Revive and Thrive Awakening balm is formulated with eye-opening scents like rosemary, sage, eucalyptus, and spearmint. The uplifting, sweet citrus smell of fresh mandarin orange will get him energized and ready for the day ahead.
When it's time to kick off his shoes and wind day after a long day, the Quiet Night relaxing balm will help him transition into a restful sleep with the scent of lavender essential oil, known to have a calming effect.
Both balms help soothe dryness with olive oil, sunflower oil, and beeswax. As Father's Day approaches, why not let Dad indulge in a little luxury? With these natural, herbal skincare products as part of his daily routine, he'll be feeling renewed and pampered in no time.