How To Get Your Feet Ready For Sandal Season?
Posted by Team LATHER on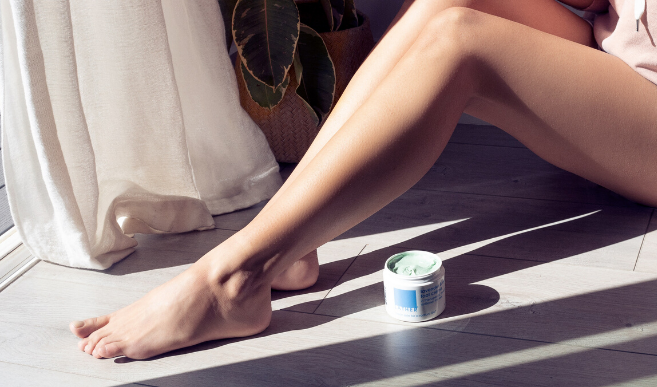 When it comes to the daily wear and tear exerted on our bodies, our feet really bear the brunt of it all. Warm weather is fast approaching, and it's time for your feet to, once again, see the light of day. Feeling a little bashful? Have no fear. We'll show you how to get your feet flip-flopping into sandal season in no time!
The dry zone
Walking, running and jogging 365 days a year can really take its toll on our feet. It's not uncommon for our feet to go long periods of time hidden away and neglected in closed up, dark shoes during the colder months. It's easy to ignore our feet and forget to moisturize when we don't have to look at them. This can cause them to become very dry and, well, not exactly smooth and radiant. When they aren't looking their best, rough and scaly, it's easy to want to hide them in enclosed shoes, and thus the vicious cycle continues.
 Most of us know what it's like to experience dry, and even cracked skin, especially on our heels. In the winter, when temperatures, as well as humidity, plummet, this unsightly and uncomfortable problem can become especially evident. As our feet carry the weight of our bodies every day, the skin on our heels can become so dry and thickened, that it actually starts to crack. To add to the misery, areas of dry, rough, hardened skin, or calluses, can form on the feet anywhere where there is constant pressure or friction from footwear. It's no question that the hard-working skin on our feet need some extra TLC to keep them looking and feeling their best.
Quench your thirsty feet.
To help combat all of this dry skin drama on our feet, it's important to moisturize them every day. Try this lavender & eucalyptus foot crème. Let your tired, thirsty feet drink in this moisture-rich lotion for some instant relief. Seaweed extract, squalane, and aloe vera will help hydrate the rough patches, while lavender and eucalyptus essential oils will leave behind a fresh, clean scent.
If your feet are needing a bit more than a momentary rub down with lotion, try this for an extra-deep moisturizing experience. Just apply this foot cream at night after bathing, and then put on a pair of cotton socks. The lotion will do its work while you sleep. Wake up to baby soft skin in the morning!
Don't forget to exfoliate.
One of the reasons why dry skin looks so dull, rough, and dry is because of the accumulation of dead skin cells on the surface. To help get rid of that dry, dead skin, and also to help your lotions soak in more effectively and do their job, be sure to exfoliate every day. Exfoliation helps slough off the dead skin cells from the surface of your skin. This makes your skin look better and feel smoother.
A great time to exfoliate your feet is when you're in a warm shower, and your skin is softened. But if you're a shower skipper, you can still scrub them smooth with this eucalyptus foaming foot scrub with pumice. The granulated pumice will gently buff away dead skin to expose the newer, suppler skin underneath. The eucalyptus and lavender essential oils will invigorate your feet, so they will smell as pretty as they look!
Wonderful pumice
The granulated pumice in the eucalyptus foaming foot scrub isn't the only way to take advantage of this unique, natural exfoliant. You can also use a pumice stone; the perfect complement to the foot scrub. The pumice stone is a 100% natural stone formed from molten lava. How cool is that?
Grab your pumice stone after soaking your feet for 5 to 10 minutes in a warm, steamy shower for an extra special exfoliating treat. It will soften calluses and buff away unsightly dead, rough, scaly skin. Your feet will thank you. Just gently rub it over those rough spots, and the exfoliating action will help reveal smoother softer skin.
Give dry feet the 1-2-3.
Now that you know how to fight the dryness on your feet and the best products to use, give that rough, dry foot skin the old 1-2-3. Try these steps. Use your pumice stone first to remove dead skin cells and soften calluses. Then follow with the eucalyptus foaming foot scrub with pumice to further soften and exfoliate your skin. Now that your feet are thoroughly exfoliated and ready to drink in some moisture, finish your skincare regime with a thirst-quenching dollop of lavender & eucalyptus foot crème.
Voila! No more hiding those winter feet. They are officially ready to show off in your favorite sandals… or flip flops!