Never Used A Natural Deodorant: Try These Four Simple Tips
Posted by Team LATHER on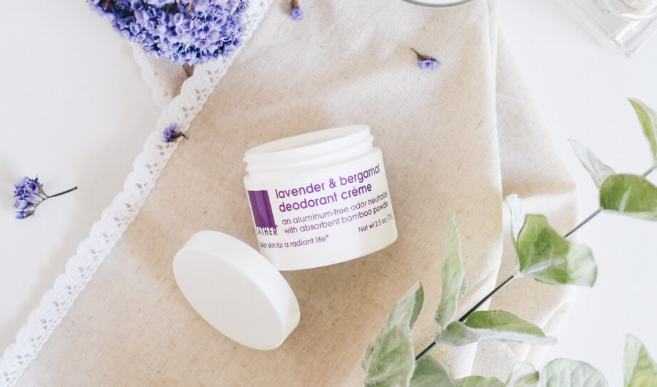 Yes, a natural deodorant! And yes, it actually works.
Our all-natural Lavender & Bergamot Crème deodorant is made with finely ground bamboo stem from the hill forests of India which effectively absorbs moisture, while arrowroot powder gives the cream a dry, powdery, non-sticky finish. It is formulated with coconut oil and shea butter which are known for their antibacterial properties, and baking soda to absorb and neutralize odor. Infused with soothing lavender essential oil, plus a touch of bergamot essential oil, the unisex aroma leaves pits smelling fresh and clean.
Did you know that sweat itself does not have an unpleasant odor? Odor develops when sweat mixes with bacteria that sit on the surface of the skin, causing bacteria to multiply. Antiperspirants block the body from functioning naturally and sweating, while our deodorant combats odor by minimizing the sweat and bacteria that come into contact on the skin.
Many people find that making the switch to natural deodorant can be hard. Some people experience underarm detoxification which can result in a short period of heavier perspiration and odor.
Try these tips to make the switch as easy as possible:
Make sure you're clean before applying. Lather up thoroughly to ensure all traces of sweat, old deodorant, and bacteria are gone before you apply.
Start with a pea-sized amount under each arm. It should only take a few seconds to rub the product in until it becomes invisible. If needed, apply a tad more to ensure complete coverage but don't overdo it or it may feel a bit heavy.
With natural deodorant, you may need to reapply during the day. If you do, wash pits with soap and water. Give your armpits a wipe down with some apple cider vinegar, if on-hand. Then re-apply natural deodorant.
Wearing natural breathable fabrics will help reduce wetness and odor production.
Being damp doesn't necessarily mean smelly. We've grown so accustomed to being dry that having a slightly damp sensation seems to be unnatural - but it's not.
Give your body time to adjust. Your armpits have been clogged for many years, they need time to adjust and flush out all the build-up that has occurred over time. Have a good sweat by exercising more often to help flush your body of toxins. Don't give up! Give it time and your natural deodorant will start working for you.