The Best Skincare Routine for Acne
Posted by Team LATHER on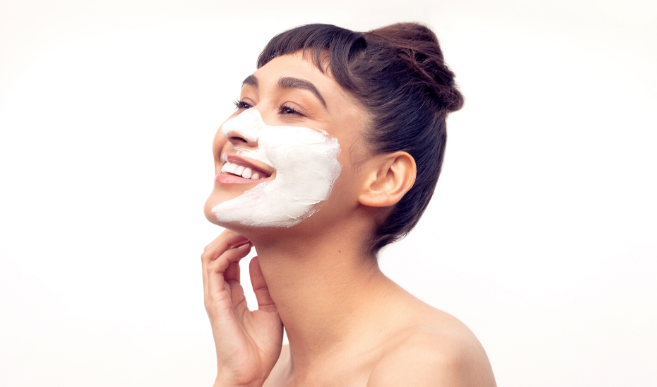 Breakouts can seem like a never-ending battle, especially if you think they were supposed to end with adolescence (as you probably now know, bumpy skin can follow us well into adulthood). Let's take a closer look at what acne is and how to keep your skin looking smooth and clear.
First, what is acne?
According to the American Academy of Dermatology, acne is the most common skin condition in the United States. It can occur virtually anywhere on the body—not just the face—including your neck, chest, back, shoulders, arms and even your behind.
There are several types of blemishes that fall under the umbrella term "acne." These include pimples (or pustules), blackheads, whiteheads, papules, cysts and nodules. An acne pimple is basically a raised, red bump that may feel sore to the touch and is filled with pus.
Acne forms when excess oil on the surface of the skin (called sebum) causes pores to become blocked or clogged. When the pores become blocked, the oil gets trapped inside allowing bacteria that feed on the oil to multiply. If the hair follicle wall ruptures under the skin, inflammation can occur causing the redness and swelling commonly seen with acne. If the acne becomes inflamed, it leads to the formation of pustules, papules, cysts and nodules. If the acne does not become inflamed, it leads to blackheads and whiteheads.
What is the best skincare routine for acne?
For a complexion that appears smooth, spotless and clarified, here's a simple daily routine you can follow.
Cleansing removes dirt, oil, makeup and other pore-clogging particulates, but you want to be careful not to overdo it. Overscrubbing can strip and further irritate your skin, which can actually aggravate a breakout. For a soothing, gentle cleanse, explore these cleansing options:
Blemish Control Cleansing Gel – This gentle, pH-balanced cleansing gel helps remove oils and bacteria that can congest pores without stripping your skin. It is formulated with clarifying witch hazel and aloe to sooth the irritation, leaving your skin cleaner and softer.
Caviar Lime AHA Cleansing Crème – To keep your skin looking fresh and revitalized on an ongoing basis, try this creamy foam cleanser made with caviar lime, a citrus fruit rich in vitamin C and alpha hydroxy acids. The gentle exfoliating action of the AHAs helps loosen dead skin cells that can clog pores, keeping your skin supple, while the vitamin C brightens and protects.
Ultra Mild Face Wash – If you skin is dry and sensitive, try this ultra-gentle face wash with the soothing action of botanical extracts like chamomile and aloe. It gently rinses away dirt, oil and makeup without drying out your skin. It's even sulfate-free!
Complete cleansing with toner
For instantly cleaner skin, try this Citrus Balancing Toner to sweep away clogging dead skin cells and every little bit of dirt, oil and makeup while balancing the skin at the same time. The perfect thing to reach for before moisturizing, this alcohol-free formula is gentle on your skin and contains lemon bioflavonoids to revive and balance the skin's pH.
Moisturize, moisturize, moisturize
No matter what you're battling, keeping your skin well balanced and hydrated is important. (On the other hand, using products that dry and strip your skin will throw of your skin's equilibrium and possibly wreak more havoc.) For gentle moisturizing, try this Shine Control Face Lotion. This lightweight, hydrating lotion contains salicylic acid to help break up the dead skin cells that can block your pores.
Once or even twice a week, give your skin an extra deep clean to help keep the pores clear. Draw out the oil, impurities and debris from pores with the bentonite clay in this White Clay Deep Pore Cleansing Mask. It also contains aloe to soothe irritated skin, which can improve the appearance of blemishes.
Sometimes you just need to target existing blemishes or troublesome areas (looking at you, T-zone!)—not your entire face. This is where spot treatments/serums come in handy. Apply the Advanced Blemish Control Serum to fast-track your way to a fresh, smooth complexion by applying it on areas where you tend to break out. This serum uses natural ingredients like salicylic acid, which exfoliates to help keep pores decongested, and tea tree oil to help combat bacteria.